Healthy Food Options
Every item made fresh in-store daily! Featuring Microgreens from Blue Moon Acres, veggies from Stoney Lane Organic Farm & Eggs from Hershberger Heritage Farm!  
GI Original Acai Bowl 
Sugar Free Acai, Topped with Granola, Strawberries, Blueberries, Coconut Flakes and Granola 
GI Original Dragon Fruit Bowl 
Also known as Pitaya
Pitaya Blended with Banana, Topped with Blueberries, Strawberries, Granola and Coconut Flakes
Spring mix with 'blue moon acres' micro greens, edible flowers and veggies topped with a choice of one of our signature house-made dressings.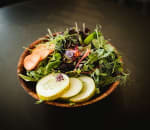 Fresh avocado or egg salad with baby spinach, micro greens, spring onion and tomato with honey Dijon dressing. Gluten-free coconut or flour wraps available.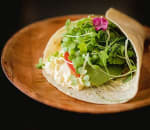 Organic gluten-free oats with chia seeds soaked overnight in unsweetened coconut milk and topped with fresh berries. unsweetened.
Fresh baked Sourdough from Nord Bread topped with choice of nut butter from nutty novelties, local honey, and variety of fresh fruit jams or smeared fresh whole fruit sprinkled with chia or flax seeds.
Fresh seasoned avocado smeared onto our freshly baked Sourdough toast from Nord Bread topped with micro greens, tomato and spring onion shoots.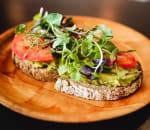 Freshly made egg salad made from Hershberger's heritage farm pasture eggs. Served on Sourdough toast from Nord Bread and topped with microgreens, tomato and spring onion shoots.
Carrots, Celery, Hummus
2 Hard Boiled eggs
Maple Beet Farro Salad
Beets, Farro, Onion in a Maple Balsamic Vinaigrette
Kale Quinoa Salad
Dates, Quinoa, Kale, Apple in a Lemon Vinaigrette 
Protein Bites
Oats, Peanut Butter, Dates, Chia, Coconut, Hemp Seeds
Berry Nut Torts
Oats, Dates, Almond Butter, Honey, Cinnamon, Vanilla, Fresh Fruit Topping